How to make space in your life for creativity (and why you need it)
Do you have space in your life to be creative? You should.
Creativity is still the most important skill in the world.

Paul Petrone, Linkedin
Creativity accomplishes the following in you:
generates positive self-esteem
provides an avenue for self-expression
facilitates and utilizes problem-solving skills
provides you with fun, de-stressing activities
opens new opportunities for growth and self-improvement
I've been working on space in my life. Space to breathe. Space to laugh. Space to create. Space to worship. Space to be nice. (Don't laugh—you know you're not nice when your life is pressing in on you.)
This week I painted a watercolor painting entitled "Space." So you don't think I consider myself a modern Monet, let me explain. I did it for a graduate class I'm in (not for painters, just for art-loving people). My final class project had to be an artistic expression, and my professor basically swore me off writing anything because she said writing is too easy for me. Grrr.
So I attempted to paint a beach scene, in watercolor, at sunset. Yep. If you're going to try something new, you might as well go for it. I painted a single Adirondack chair in the foreground, representing the solitary aspect of waiting on God and soaking in the ever-changing world around us. I wanted to convey the euphoria of just breathing–waiting–wondering–an attempt at portraying the vastness and beauty of a life with space in it. (Just so you know I'm not too vain, I'm showing you the painting below.) See? Anyone can try anything.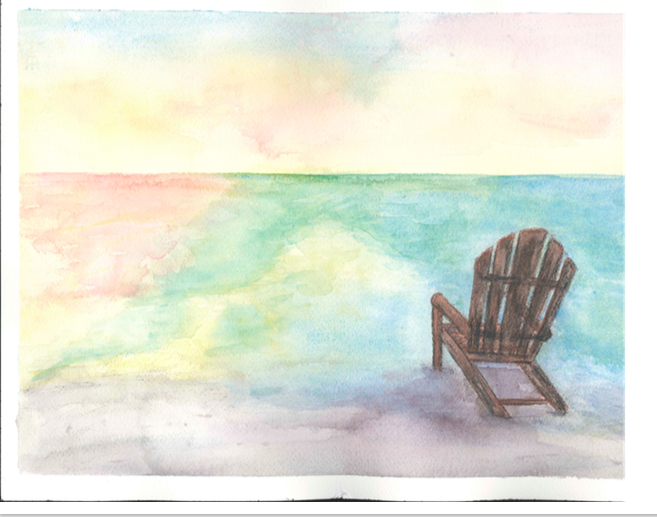 The painting is better if you squint really hard and back up while you look at it. I had trouble achieving depth and dimension. The water seems to one-dimensional, and the waves don't show up well, especially in this blog. Oh, well. My mother would have absolutely loved it and probably framed it. (Mothers are like that.)

This painting entitled "Space" was a final project submission for a graduate class I'm taking. I am receiving 2 credits for attending an arts conference called "The Breath and Clay." After attending, the final assignment was an artistic expression that reflected a theme or "take-away" from the conference. The Breath and Clay highlights artists' lectures and workshops, as well as visual arts, dance, instrumental and vocal performances, spoken work poetry, and live art.

I have been intentionally creating artistic space and worship space in my life for a long time. What occurred to me at the conference was that creating space to wait and worship also inspires creativity, which also requires space. This confirms my practice of carving out time to do something artsy at least once per week for a few hours and once per day for a few minutes.
Why is creativity important? It is a demonstration of who I am and what I was created to do, even when I do things that I'm not proficient at (like painting). Your creativity could be computer programming, tinkering, gardening, puzzles, or anything that simultaneously de-stresses and inspires you. You don't even have to be good at it. Just be adventurous and free.

Creativity is intelligence having fun.

Albert Einstein
So how can you make space to be creative?
Set aside time on the weekend or a day off to indulge in something that inspires and relaxes you
Give yourself time each day to stop multi-tasking
Get regular exercise
Give yourself permission to be bad or mediocre at something creative–just try
Eat healthy, at regular times, and have face-to-face conversations
Limit your screen time to certain times of day (this is hard, I know)
Regularly do something you loved doing as a child (drawing, biking, baseball, dance, etc.)
According to Rafiqu Almansy, in his article "How Social Media Affects Your Creativity," too much social media can reduce creativity, create a false sense of real life, and waste time. Let alone all the other stuff.
Don't worry about being good at everything. Just try something new or something you miss. To quote/paraphrase Miss Bingley—or was it Catherine de Bourgh?–from Pride and Prejudice, "I think I should have been a great proficient if I had tried." While I was painting my beach scene, I did try to make it great, but in the end, I had to be satisfied with the process of creativity rather than achieving a particular outcome. I have not invested countless hours at painting, so greatness is out of reach for me right now. The point was to have fun. (Well, actually, the point in this instance was to fulfill an assignment, but it was also fun.)
We all need to make space and guard ourselves from an adrenaline- and stress-filled lifestyle. Stop and smell the roses. Sit in a chair and watch the sunset. Perhaps that's why God took the time to paint a masterpiece every evening.
Creativity is an outpouring of your worship.




Ray Hughes