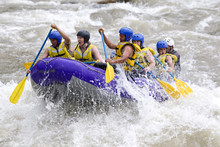 4 steps to becoming resilient
We all need more resilience. Here are 4 steps to becoming more resilient.
I'm not an adventurer by any stretch, but I love being outdoors. I'm a real sucker for fresh air and a good view. Beyond the normal walking/hiking/bike riding activities, I enjoy whitewater rafting. (With a guide in the boat, of course.) I like the feeling of rowing with a team through the rapids, of participating in forward motion when other forces are squeezing the boat and pushing it toward the rapids you don't want to navigate. If you choose a reasonable river, rafting has just enough excitement and calm to make a day outdoors incredibly exhilarating.
2020 was a whitewater rafting trip for everyone. Only it was the kind with huge waterfalls instead of Class 3 rapids. And instead of rowing together, it seems like a lot of people in the boat just turned on one another or leaped out onto the rocks nearby, hoping to avoid the experience altogether.
But most of us stayed in the boat and rowed, whether we listened to the guide or not. We held on or caved into the soft middle or rowed like heck. We tried to be overcomers. We pretended that we weren't experiencing grief or trauma from those eternal months of fear, isolation, and adjustment.
The good news is that it's never too late to learn how to bounce back because resilience isn't a lesson. It's a way of life. So in light of a world that hasn't gone back to "normal"—and will likely never do so—I thought we could review the art of resilience. I just gave a workshop on it this weekend so it's fresh in my mind.
We have a body which responds biologically to trauma. And we have a spirit which responds spiritually to trauma. And God has wired us to heal in both ways.
Here's the spoiler: Resilience is establishing a healthy relationship with suffering.
I'll tell you why.
You are wired for resilience
Desire resilience. God's goal for our human existence is relationship with him (first) and resilience to the world (second). Jesus promised that we should suffer in this life, but that suffering would have a purpose, just like it had in his life. If we can't rise above the attacks levied against us, we won't thrive in the mission He's given us. We can attain a lot of things in this life, but if we don't have rebounding power, we won't attain anything worthwhile. And we certainly won't be able to recover from grief, loss, heartache, and trauma. Click here to read "What grief wants from you."
2. Understand resilience. Resilience is the ability of a person, thing, or organization to recover from a crisis or disruption. You need endurance to handle both good and bad events. Your body is wired biologically to survive trauma and crisis. Trauma happens "when we're frightened of overwhelmed beyond our capacity to rebound."—Dr. Levine, world's expert on biological resilience. I refer you to him, not because I ascribe to everything he says, but because he has done extensive research on biological responses to trauma. And we haven't. (We just try to live through it.)
To handle threat or trauma, your body sends hormones (like adrenaline) and automatically engages in homeostatic and sympathetic responses. Your brain and body launch into 4 modes (used to be 3, but psychologists have added #4 for co-dependency):
Fight–Ex.: A teacher demeans or humiliates your child, and you correct her and immediately report her behavior to the principal.
Flight–Ex.: A vicious dog chases you while you're riding your bike, and you escape.
Freeze–Ex.: Someone robs a convenience store while you're in it; you lay down on the floor and don't move.
Fawn–Ex.: A co-dependent family member manipulates and criticizes you, and you respond to whatever will de-escalate the situation.
The fight/flight/freeze/fawn responses are your body's way to survive. They are good and necessary. The difficult work–the work of resilience–is teaching your body that everything uncomfortable or frightening is not a threatening situation Everything, in fact, can grow you as a person.
3. Embrace resilience. If you get stuck in any of these trauma modes, your brain and body will adapt to living that way, and all your energy (which should be channeled for rebounding and excelling) goes instead to living in a trauma state. This is where the power of God manifests itself. We are also designed with a soul and spirit that can overcome fear. God's love for us and our love (and trust of his plan) provide the power to push through overwhelming events. Click here to read "Finding a new direction when life is uncertain."
4. Learn resilience. The process of enduring through suffering and pushing through fear develops maturity and resilience in us. It's like rowing on the smooth parts of a river. You practice for the rapids, and then to tackle them. And then you're stronger for the next set of rapids. Because new traumas trigger past traumas, even ones you've managed to block out. Click here to read "How to handle personal grief during a time of collective trauma."
Here's what happens to the four F's of trauma when we don't develop resilience:
Fight—Ex.–we attack one another instead of solving or riding out the crisis
Flight—Ex.–we redirect, avoid the issues, run from conversations and relationships that are hard to process, which creates disconnect & isolation
Freeze—Ex.–we internalize all our stress and anger, isolating ourselves and becoming bitter and distrustful of everyone
Fawn—Ex.–we adapt to whoever we're around, which intensifies our fear and insecurities
Download this mapping exercise and do some self-analysis
What influences your resilience or fear?
What shapes your reactions, your relationships, your theology?
Who has access to your true emotions and are they healthy for you?
Click on the links below for additional material about trauma & resilience:
Slide Show (notes, Scriptures, & quotations) of my talk "Made for Resilience":
Click here for A prayer for resilience
The Resilience Summit: Dr. Levine's explanation of trauma & resilience: