How your calling is formed
(i.e. me starring in a play, losing my wig, & ad libbing)
It's funny how life happens in scenes. Almost like a play.
Around my sophomore year of high school, I played Jo March in our school's production of "Little Women." As the uninhibited, aspiring authoress, it was a type-cast role that I was born to play. My opening line was the complaint "Christmas won't be Christmas without any presents," whereupon I happily fell off a footstool and showed the audience my bloomers.
I dramatized myself all over that stage, fake-slapping Amy (one time I actually slapped her, by accident), raging over my burnt manuscript; crying over Beth's scarlet fever, and—wait for it—cutting off my hair to raise money for Marmee's trip to nurse our father back to health.
Only I didn't cut my hair in the play, obviously (it was too permed for that!). I wore a very heavy chignon-styled wig, held in place by a hundred bobby pins, for Act One. I was supposed to unpin the wig off-stage and re-enter with my short brown hair (aka post-haircut) as the conclusion to Act One. As luck (or life) would have it, the wig began to slip during a front-and-center monologue. I desperately fingered the dreaded bobby pins and ad libbed a complaint about my horrible hair. A very Jo thing to do.
Whereupon, the wig fell off my head and landed on the stage next to me. Before I could exit Upstage Center. During the matinee performance. In front of the whole school. While standing Downstage Center Right.
I kicked the wig to Stage Right and kept right on with my lines.
The show must go on.
I wanted the stage to swallow me up, but it refused to do so. Whereupon I learned a little something about pushing through embarrassment and faking confidence.
My life is a bit like a stage production where ad libbing is necessary because that I have little control over what happens to me. I'm not pretending, really. I'm being me—or at least I'm trying to be me. I'm doing life with a certain cast of characters and predominant themes. The show is moving along much faster than rehearsal suggested it would. The cues, the lights, the audience's response. Everything is what you expected, only much faster, and much more real. The show catapults toward a predicted ending but with unpredictable components.
Certain characters play a more key role than others do. Some characters come and go for a short scene. Others remain throughout. Naturally, I'm the starring character on the stage of my life, but I am also constantly changing and being forced to change. It's a bit disconcerting.
I'm stretching and growing into a person who will stretch and grow again in the next scene. Who will have to ad lib and hope nobody notices. Who will learn to kick wigs off-stage and keep on talking. Who will freak out backstage during intermission and go back on stage for Act Two, smiling and determined, even though I want to die.
It's really the looking back on the scenes of my life that help me notice themes and people. There I find the successes. There the failures don't look so bad because I see them as stepping stones for the next great lesson. They form the scenes that will follow, the ones I haven't rehearsed yet.
And when I look back, I can see themes that run through all decades of my life so far—all the victories and failures, the joys and sorrows. I see beauty and artistry, leading me into visual and literary arts. I see a quest for knowledge, leading me into education and a study of Scripture. I see faith and community, leading me into a love affair with the church. I see family, hard work, love, affirmation, travel, exploration.
Nothing is random. No scene happens out of place. No characters make an entrance that's insignificant. They all work together to make me me, just as your life builds to make you you.
A beautiful you. The real you.
A you with a purpose, no matter what has fallen off your head in the past.
Take a look at this graphing exercise, if you'd like to do a little self-analysis. I've called it a "Calling Formation Exercise." I've used it in several workshops, and everyone says it helps them learn about themselves and feel encouraged about life and purpose.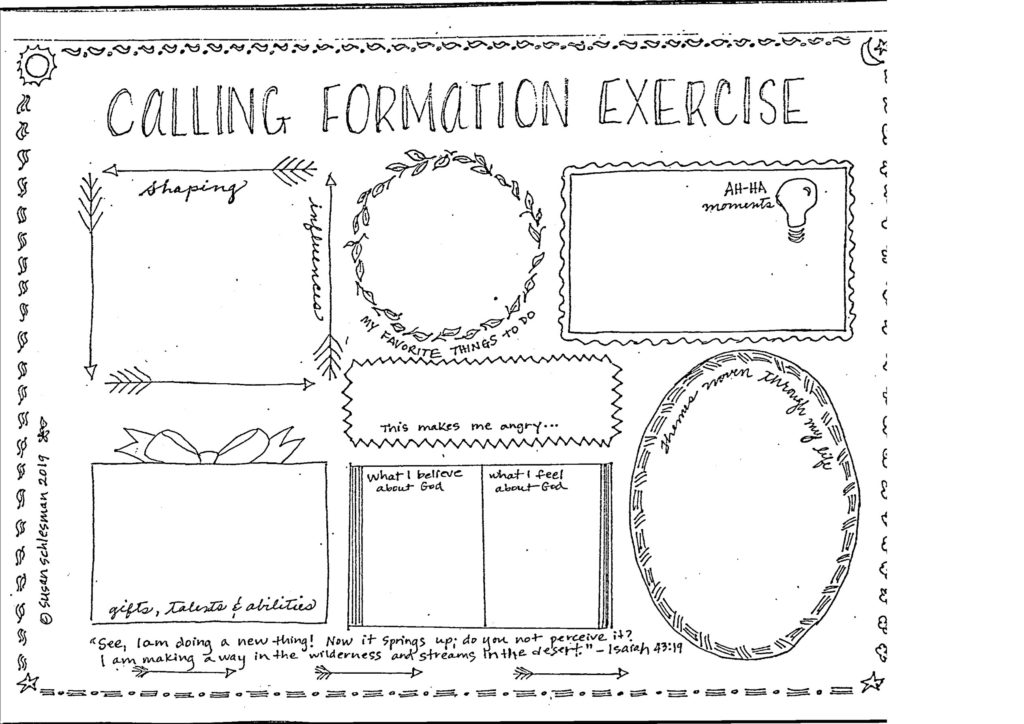 How it works/what to do with it:
Each box gives you an area to consider about yourself. Together, the page shows you how nothing in your life is random or wasted. It all works together to lead you into the calling that God has placed on your life by making you you. Rather than dissecting your life in a linear progression, this exercise reveals the formation that's been occurring in your life over time. Over and over.
And here's the bonus—you can color this.
The areas are as follows:
Shaping influences: people and events that influenced how you felt about yourself and who you started becoming
My favorite things to do: hobbies & activities—what you do whenever you can (not work)
Ah-ha moments: spiritual turning points in your life; where you understood truth or realized something pivotal
This makes me angry: what stirs up your righteous indignation? These things make you take action.
Gifts, talents, & abilities: what you're good at, naturally or through hard work
What I believe about God/what I feel about God: these can be very different. For example, I can believe that God is loving, but I can feel that he doesn't care about me or my problems
Themes woven through my life: things (good or bad) that keep turning up in different stages (ex.– education, justice, betrayal, hospitality, art, sports, co-dependency)
All of these work together to create you as a unique and influential person, positioned to do something no one else can do in a way that no one else can do it. What has God been preparing you for? What is He already accomplishing in you?
"See, I am doing a new thing! Now it springs up; do you not perceive it? I am making a way in the wilderness and streams in the desert." (Isaiah 43:19)
**********
And now for the encore:
If you're a Shakespeare or theater fan, check out one of the world's most famous stage speeches below, from As You Like It (Act 2, Scene 7). You can look up the whole speech here. Shakespeare–through the character Jacques–divides life into 7 stages and analyzes each. It's enlightening and amusing. Here's the beginning:
All the world's a stage,
And all the men and women merely players;
They have their exits and their entrances;
And one man in his time plays many parts,
His acts being seven ages.