The world's best apple cobbler: #2 favorite fall recipe
It's time for the world's best apple cobbler. (It's #2 of my favorite fall recipes.)
I don't know why I'm so hungry in the fall, but I am. Something about breathing in crisp air that smells of firewood and burned leaves instead of sweating in mosquito-filled humidity puts me in a goodie-eating mood.
Or maybe it's because there's a collection of favorite recipes that I only make between September and December. So as a self-proclaimed baked-dessert connoisseur, I am graciously committing to share my favorite (albeit previously secret) fall recipes for the next month or so instead of blogging about politics, religion, or pandemics, which I am sure you are all sick of hearing about.
I, for one, would rather talk about eating molasses cookies and pumpkin muffins. Or more precisely, eating them. This week, two different friends bequeathed me with baked pumpkin bliss. One—a chocolate chip banana-pumpkin bread: YUM. And then yesterday, two pumpkin- cheesecake muffins. DOUBLE YUM. My friend gave me two muffins, and I ate them both this morning without a thought about sharing them. My husband will find out about the gift when he reads this blog.
So last week, I shared my pumpkin cupcakes (aka muffins in the morning) with cream cheese frosting. Today's recipe is a family heirloom from my great-grandmother. It was one of my mom's favorites, and she's on my heart and mind every single time I make it. Especially in October, our birthday month.
I'm going to share my fruit cobbler recipe.
Actually, it's my mom's, grandma's, and great-grandma's recipe. So you know it's good. Nobody makes something for 100 years if it isn't any good.This recipe has ruined me from eating anyone else's cobbler. I've tried. It's just not worth it. I am always disappointed. (Every dessert should be worth it's calories.)
I can't even eat professional cobbler (i.e. restaurant baked). Every other cobbler but this one has too much crust, too much sugar, too much cinnamon, too much something.
This cobbler is perfect. The right amount of sweetness, crust, and fruit. I prefer cobblers to fruit pies because there's less crust in a cobbler, and the crust is sweet and fluffy instead of buttery and flakey. And nothing gets soggy on the bottom. It's even good when you burn it.
Cobbler is a neater dessert. Cobbler nicely fills up your bowl, and the ice cream melts all over it, not just on the side of it. A piece of fruit pie is beautiful for about one second, and then it falls apart on your plate, and the ice cream has to settle for sitting next to it. And then you are compelled to make multiple forkfuls of pie and ice cream to complete every bite. I also find that we never quite finish an apple pie. The crust gets soggy by day tree, and the rest goes in the trash.
But I have never thrown away cobbler.
Cobbler, in my opinion, is the most efficient baked fruit dessert.
You healthy cooks can make the following substitutions (same measurements)
Gluten-free: substitute Italian or French flour for American flour
Sugar-free: substitute honey crystals for sugar
Dairy: substitute coconut oil for butter
For everyone else, here's the recipe and pictures. Today I made apple cobbler because it's apple season, and who doesn't like apple cobbler? But my personal favorite is making this recipe with fresh peaches. And blueberry cobbler runs a close second. Pear is also good.
So enjoy. In between mouthfuls, send me a line and tell me how you like it.
Mom's Apple Cobbler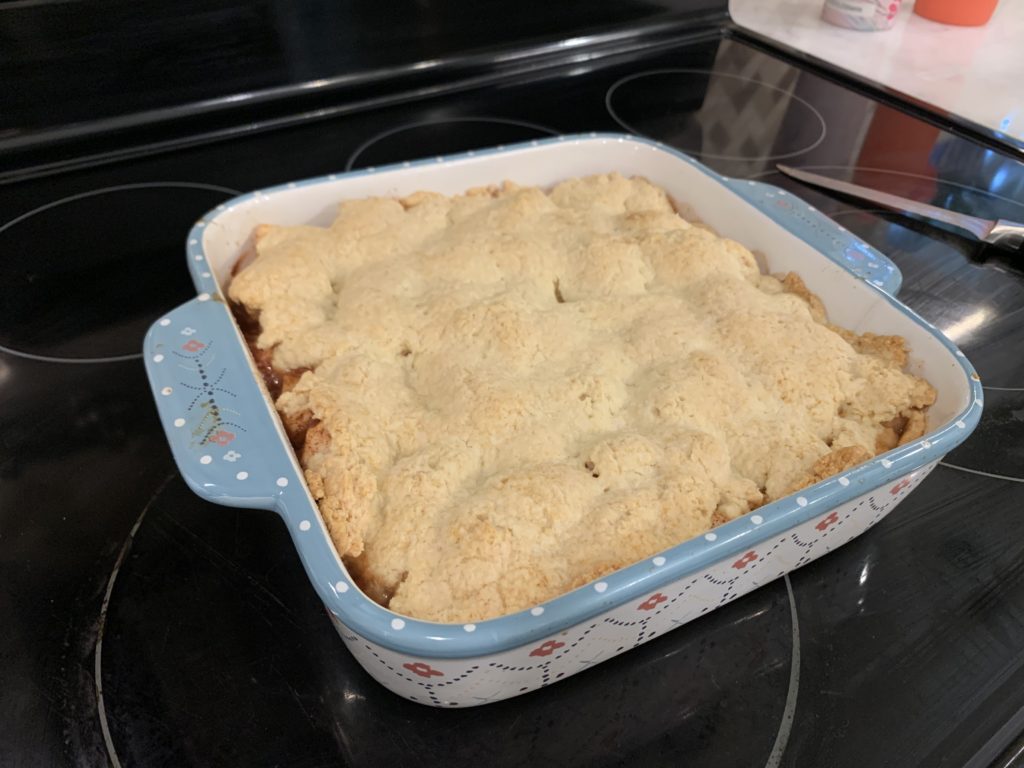 Combine ingredients for FRUIT FILLING:
½ cup sugar
1 tablespoon flour
½ teaspoon salt
1 teaspoon cinnamon (original recipe calls for nutmeg, but I like cinnamon better)
2-3 cups fresh fruit, peeled and diced
If you add extra fruit for a deeper cobbler, just increase your flour, sugar, salt, and cinnamon accordingly. It's really hard to mess this filling up. Cut up about 6 or 7 apples, sliced, skinned, and cubed. I suggest using 2 different kinds of apples of the firm variety, like Granny Smith, Gala, Honey Crisp, Macintosh. Mixing apples together, particularly a sweet and a tart, give your cobbler an extra-good flavor.
Combine fruit and filling ingredients, stirring until fruit is coated. Pour into greased 9×9 baking dish. (This recipe is also easy to double and put into a 13×9 pan.)
Combine dry ingredients for CRUST:
1 cup flour
½ teaspoon baking powder
½ teaspoon salt
¼ cup sugar
Then add:
¼ cup shortening or butter
2-4 tablespoons of milk (or ¼ cup)
Cut shortening into dry ingredients with a pastry cutter. Add milk gradually. Make a soft ball of dough with hands. Add flour if it's sticky and milk if it's dry. Roll out with rolling pin on a floured surface. Roll it into a square (or the shape of your dish). With a spatula, loosen it around the edge and lift it up. Cover the fruit in the pan. Prick the pastry all over with a fork so the air can escape.
Bake cobbler 25-40 minutes (depending on the kind of fruit and amount of fruit) at 350 or until the top crust is light golden brown. Pierce the fruit with a knife to determine if it's cooked enough–when the fruit is soft, it's done. Serve cobbler warm, with ice cream. (Or not. It's delicious every way.) I particularly like it cold for breakfast.
Suggested cook times:
Apple: 35-40 minutes
Peach: 25-30 minutes
Blueberry: 25-30 minutes
Happy October cobbler!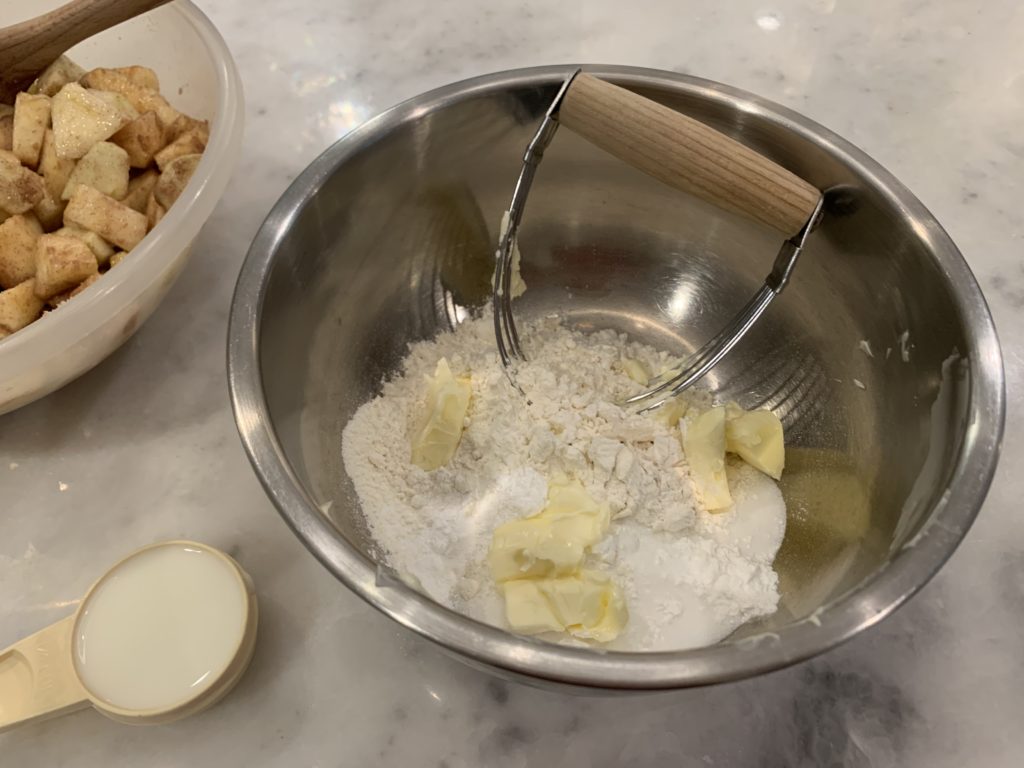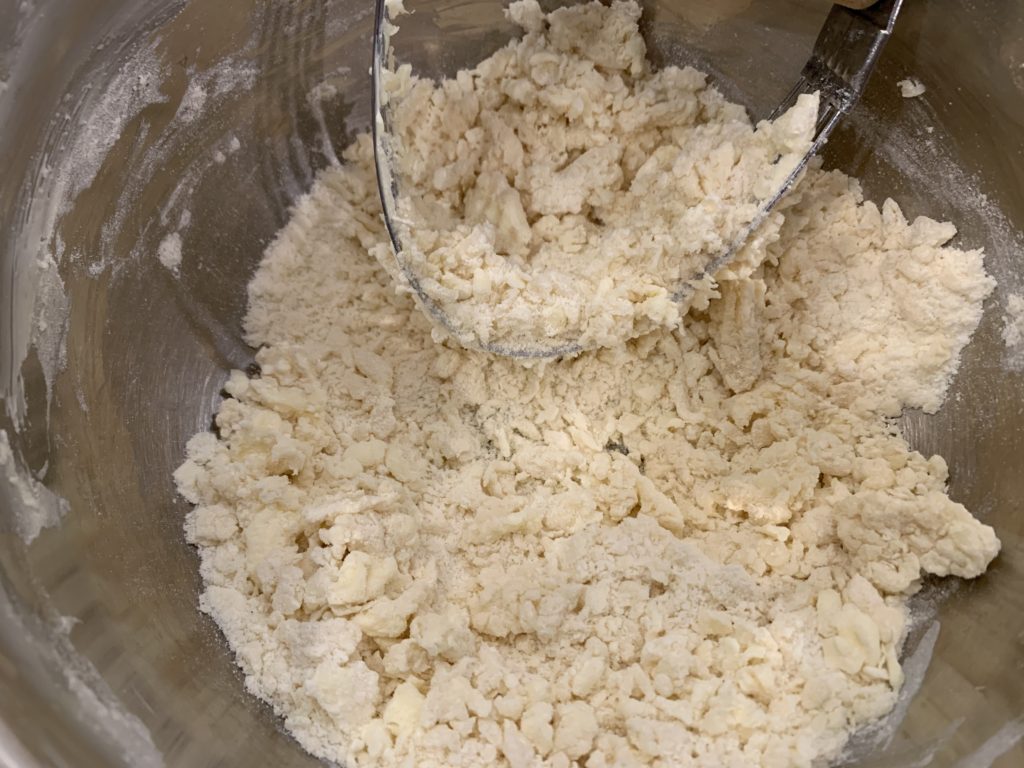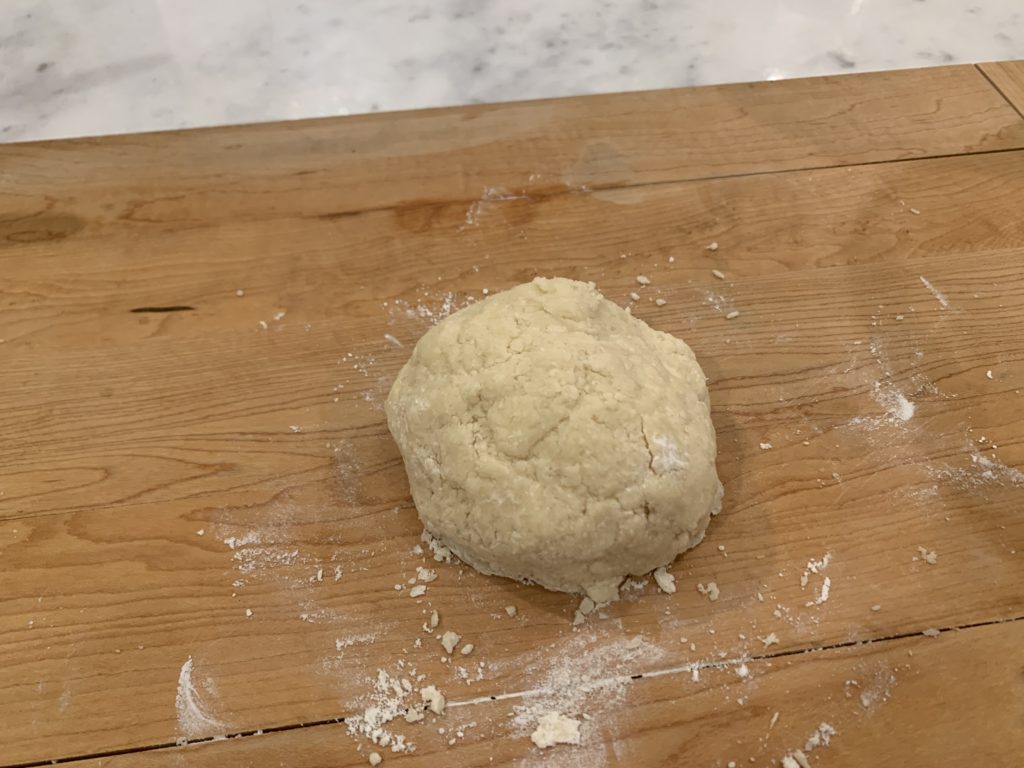 form dough into a ball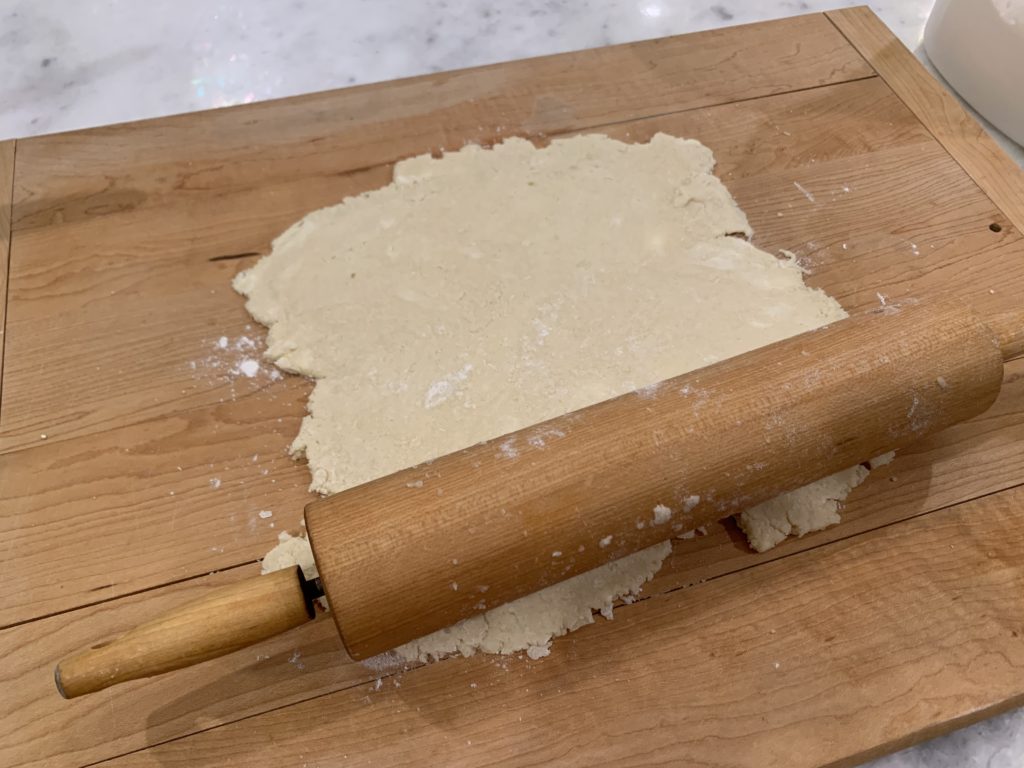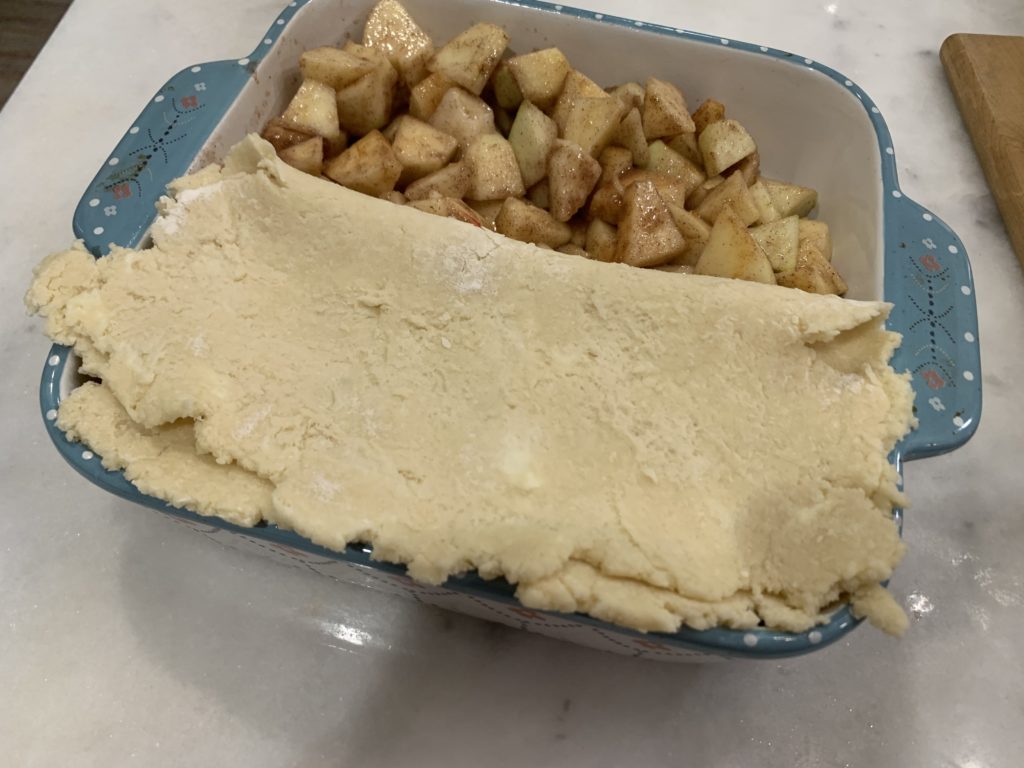 Carefully lift the dough off the cutting board with a spatula, fold, and move to the dish. Then unfold.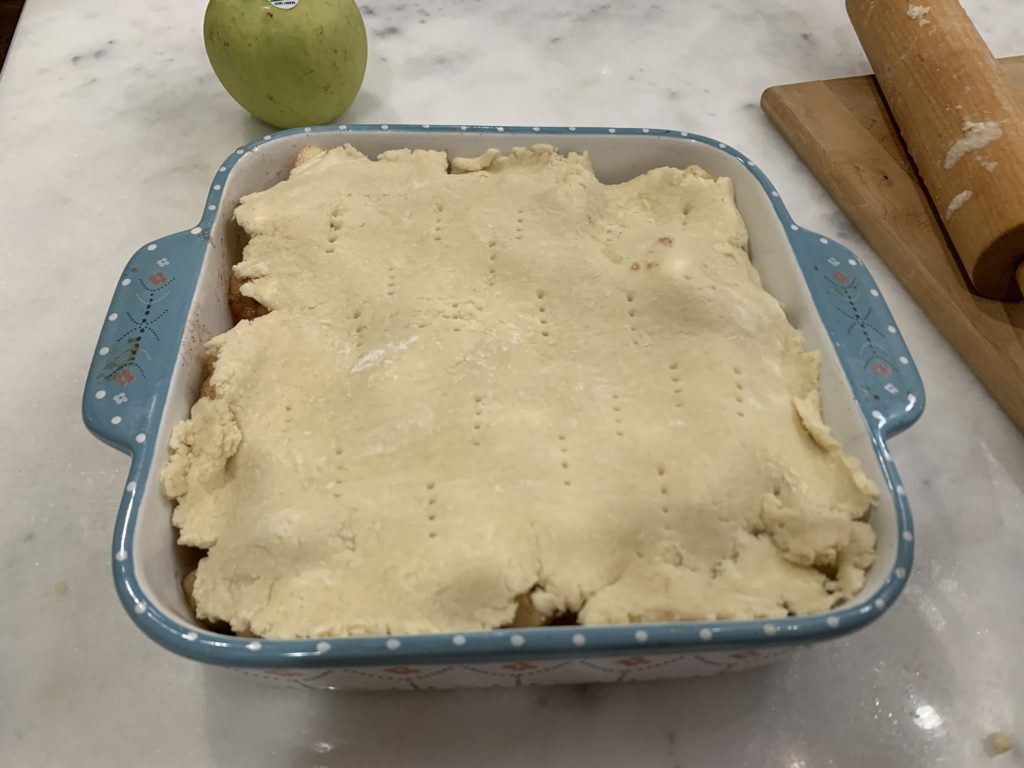 Prick the uncooked crust with a fork to let out the steam while it bakes.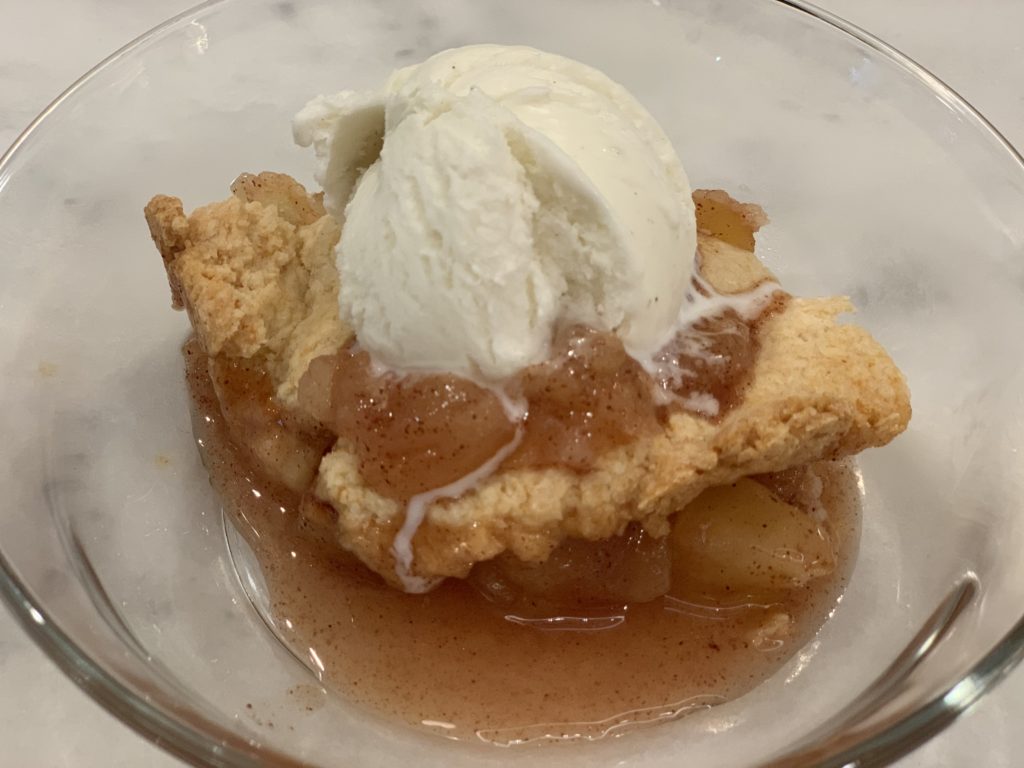 ENJOY!!