The biggest picture:
what's happening spiritually because of the
pandemic
Week 5 of the Quarantine. Or is it Week 6?
My world has become myopic. I don't even know anymore.
One of my sons somehow caught the stomach flu this past week, and for 24 hours, I was experiencing just a smidgen of the worries that everyone with flu-like symptoms right now must feel. He fully recovered 15 hours later, but my fear lingered.
I regularly check the Johns Hopkins' coronavirus map and watch the newscasts. I hear the predictions about the governor's continued stay-at-home order. I listen to economists' projections. I finally secure a mask for myself, but I hesitate to leave the house.
The big picture can be scary.
While we discipline ourselves to wash our hands, social distance, and wear masks to the grocery, our hearts struggle against a me-first mentality. If we can learn to think in pandemic terms, we can more easily make decisions that positively affect everyone's health two weeks from now. My actions, both physical and spiritual have the power to affect people I don't even know. I can choose to endure some hardship for the greater good. For the bigger picture.
But is consideration of others the biggest picture? Or is there a bigger one?
Is something grander and more impactful happening in the world, in spite of the dreadful loss of life to 130,000 souls worldwide and the 2 million who are sick? Could something else be more impactful right now than this global crisis?
The Church Online Platform (a free ministry developed by Life Church) reports record numbers of spiritual decisions since the onset of COVID-19, with numbers far surpassing the numbers of souls lost to the virus. On Easter Sunday weekend, the platform's network reported 69,427 people receiving Christ as Savior. In our church alone during the COVID-19 quarantine, our online salvation decisions are around 300. We have never seen anything like this in regular church life before.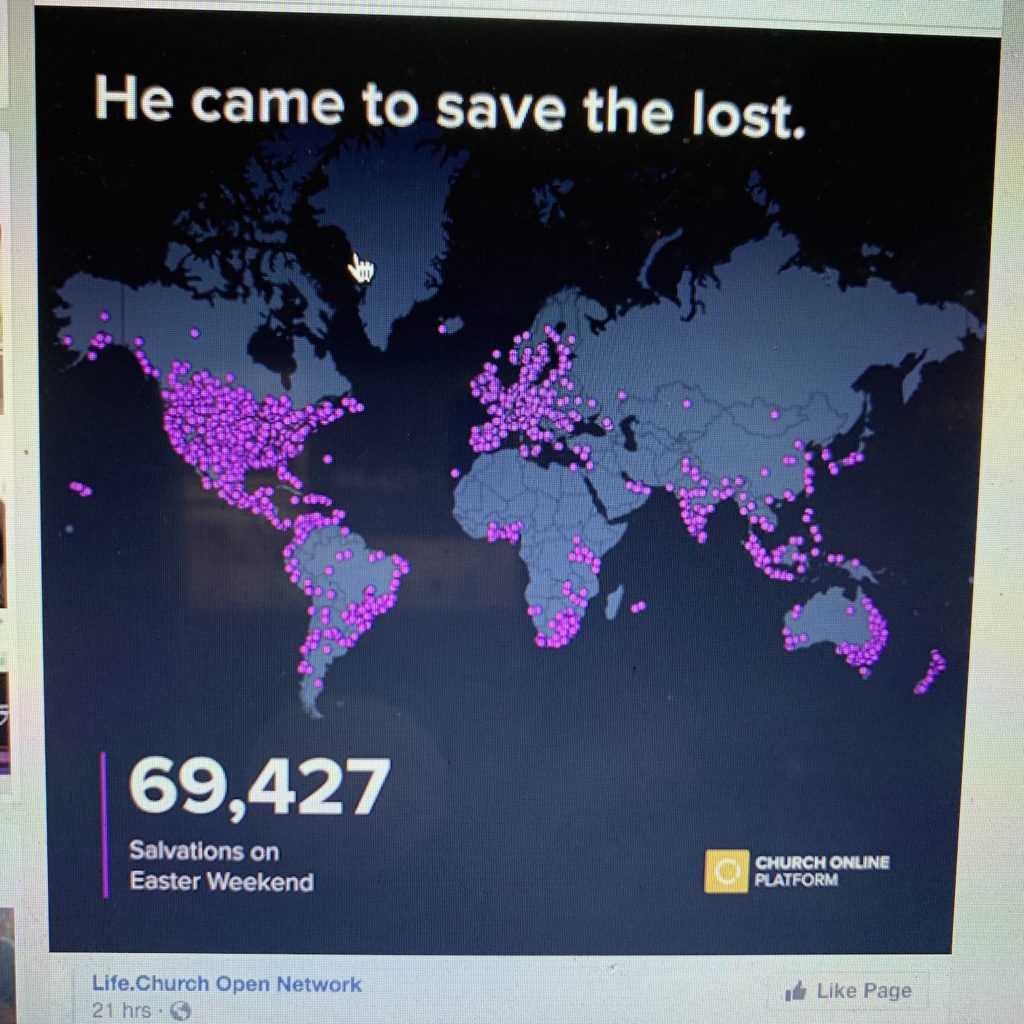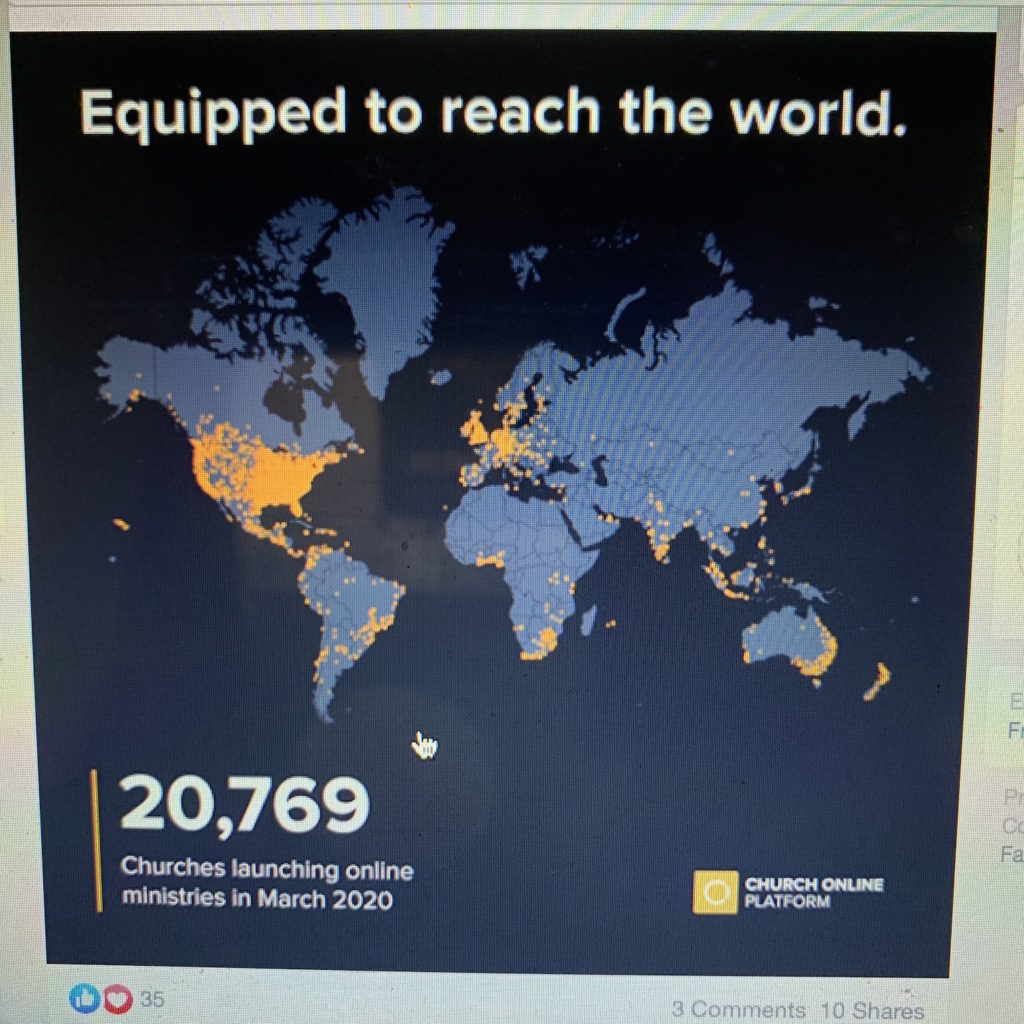 Something bigger is happening here, folks. The world is experiencing a spiritual awakening of global proportions. People are recognizing a need greater than physical health or physical presence in a building. They are recognizing a spiritual longing. And the global church is creating pathways to meet these needs while under a worldwide quarantine.
And we know that in all things God works for the good of those who love him, who have been called according to his purpose.

Romans 8:28
While technology makes our globe smaller and more connected, the Spirit of God has moved through technology into the human heart to generate eternal change. Fear for life has transferred to a fear of living without hope. We are all experiencing sudden realization that we lack the ability to control every aspect of our lives. We are awakening to the reality that to live under the grace and protection of Almighty God, we must give Him control over our souls.
The big picture is not a world fighting to breathe. The bigger picture is that souls are fighting for the Breath of Life. They are gasping, coughing, and gulping down anything that satisfies the ache inside. And some of us have the answer.
COVID-19 has revealed to millions that the human soul needs more than healthy lungs.
We crave a Savior, a Healer, a Defender, a Lover of our Souls.
That's the biggest picture ever painted. And Easter just reminded the world that the Person who conquered death can give them a new life on earth and a new life ever-after.
Romans 8:13-25 (The Message)
12-14 So don't you see that we don't owe this old do-it-yourself life one red cent. There's nothing in it for us, nothing at all. The best thing to do is give it a decent burial and get on with your new life. God's Spirit beckons. There are things to do and places to go!
15-17 This resurrection life you received from God is not a timid, grave-tending life. It's adventurously expectant, greeting God with a childlike "What's next, Papa?" God's Spirit touches our spirits and confirms who we really are. We know who he is, and we know who we are: Father and children. And we know we are going to get what's coming to us—an unbelievable inheritance! We go through exactly what Christ goes through. If we go through the hard times with him, then we're certainly going to go through the good times with him!
18-21 That's why I don't think there's any comparison between the present hard times and the coming good times. The created world itself can hardly wait for what's coming next. Everything in creation is being more or less held back. God reins it in until both creation and all the creatures are ready and can be released at the same moment into the glorious times ahead. Meanwhile, the joyful anticipation deepens.
22-25 All around us we observe a pregnant creation. The difficult times of pain throughout the world are simply birth pangs. But it's not only around us; it's withinus. The Spirit of God is arousing us within. We're also feeling the birth pangs. These sterile and barren bodies of ours are yearning for full deliverance. That is why waiting does not diminish us, any more than waiting diminishes a pregnant mother. We are enlarged in the waiting. We, of course, don't see what is enlarging us. But the longer we wait, the larger we become, and the more joyful our expectancy.