Relief when you're melting in life's heat (a guest post)
Okay, it's just too hot. I'm officially tired of the summer. I need some reprieve, and frankly, staying in my house isn't working that well. I'm still sweating. Maybe you are, too, in more ways than the obvious. Maybe life feels a little like Virginia in August–a blowdrier in your face.
I hope you'll enjoy this guest post about heat and shade from my friend Lori Hatcher. This is what she says about the heat:
If you've ever cared for young children, you know how hard it is to keep them occupied in 100 degrees.
At my house on Friday, my grandchildren begged to go outside. The new box of sidewalk chalk was singing a siren's song to their creative souls.
"Please let us go outside, Gigi," Lauren said. "It's not too hot."
The thermometer said otherwise, but I agreed. They'll realize I was right, I thought, and scurry back inside asking for popsicles.
Even though they lingered over their chalk drawings, my grandchildren weren't oblivious to the unrelenting sun. Their cheeks turned crimson. Bright beads of sweat appeared on their foreheads and upper lips. Damp strands of hair curled into corkscrews at their hairlines.
Grabbing popsicles from the freezer, I headed outside. They were huddled in a tight knot at the foot of the stairs.
"Look, Gigi," Lauren said proudly. "We found shade."
And sure enough, they had. Clustered in the only shady spot on the sidewalk, they crouched happily, drawing loopy loop daisies and flower bouquets.
Shade can make the difference between life and death. A heat stroke occurs most often when working or playing in direct sunlight. How interesting that God calls himself our shade.
"The LORD is your keeper," the psalmist writes. "The LORD is your shade on your right hand."

Psalm 121:5
Instead of shielding us from the effects of heat and sunshine, God provides a welcome respite from life's challenges.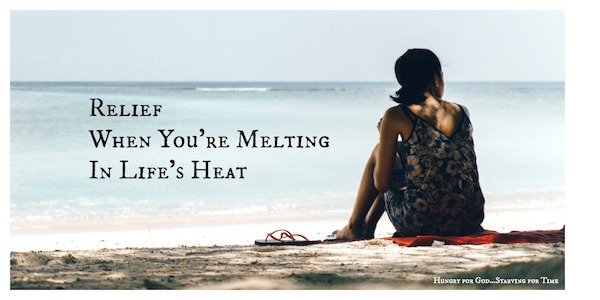 "He who dwells in the shelter of the Most High will rest in the shadow of the Almighty."

Psalm 91:1
If you're struggling today, I pray you'll allow God to cast his big, broad shadow over your feeble soul and give you relief.
Lori Hatcher is the editor of Reach Out, Columbia magazine and the author of several devotional books including Hungry for God … Starving for Time, Five-Minute Devotions for Busy Women, which won the 2016 Christian Small Publisher Book of the Year award. Her most recent book, Refresh Your Faith – Uncommon Devotions from Every Book of the Bible launches in the spring of 2020. Check out her blog, Hungry for God. . . Starving for Time or connect with her on Facebook, Twitter (@LoriHatcher2), or Pinterest (Hungry for God).