15 things I'm thankful for in 2020
It's still 2020, but I'm thankful for 15 things (at least)
I'm up early. It's Thanksgiving, and I've got poultry that still hasn't thawed and side dishes to put in the oven, and I'm regretting not having installed a double oven in my kitchen. (Because that's what people who live in first-world countries think about on Thanksgiving morning.)
So I'm setting all those thoughts aside to sit down and write 15 things I'm thankful for as we near the end of the shocking, emotionally-traumatic year of 2020.
I'm so thankful. I really am. I'm healthy, I'm eternally secure, and I'm making Thanksgiving dinner for my favorite people, who are also healthy and eternally secure. I'm not hosting the big crowd I would have liked to host. I didn't invite any acquaintances without a place to go, as I wanted to. It didn't seem responsible.
2020 has been that kind of year. Weighing virtue with wisdom. Sorting out grief from truth.
I didn't keep a Thankfulness journal this month, so I'm writing now. And just in case you're also waiting on a bird to thaw or a catered meal to show up, and you're in a reflective place, this is to encourage you.
I hope you'll make your own Thankfulness List. Here's mine:
I am safe in my own home. It's beautiful, and it's ours. And at the moment, all our plumbing is working correctly (a big deal for us).
We're having a special meal today. Yes, it's a national holiday, but it's also special that we live in a country with a selected a day on the yearly calendar to thank God for our blessings. Plus, I'm using my mother's china and silverware. She would be proud and sentimental if she were alive.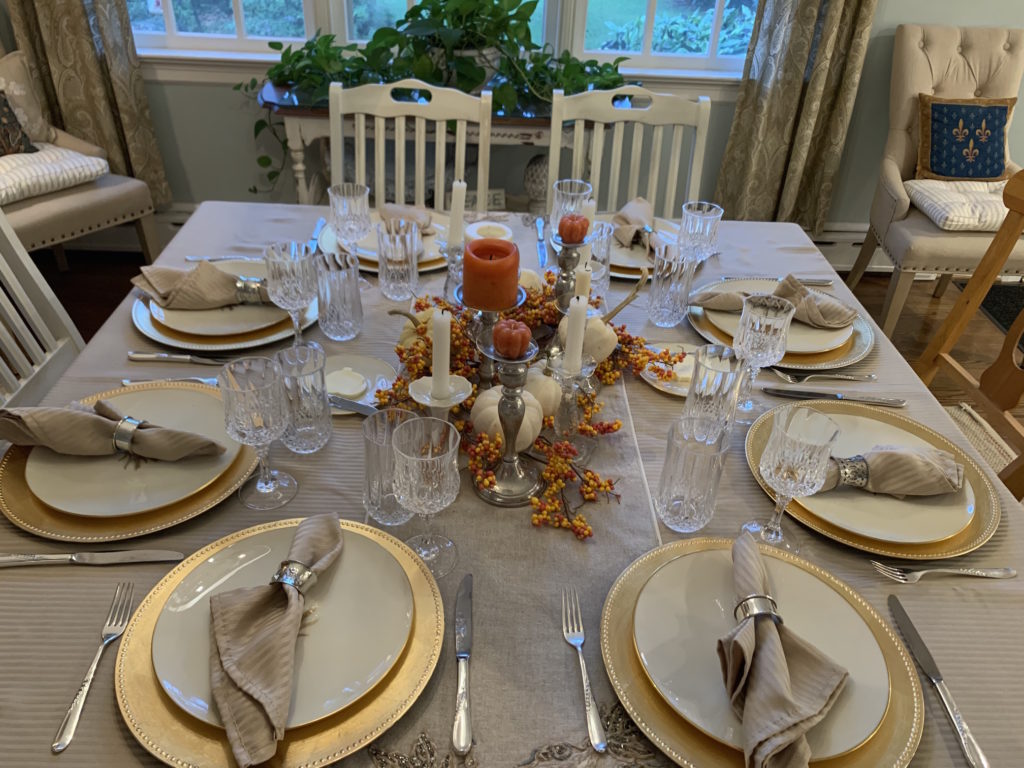 My family. I have three grown children who make good decisions and who follow the Lord, each in their own way. And they love to come home. I spent a fortune on groceries this week, and we're having to share the T.V. I'm getting hugs and making cookies. A son mowed the grass for me yesterday. And of course, my husband is my best friend, so that's an obvious blessing.
I can work where I want and do what I want. I can teach truth at a school without being censured. I can write truth in a book or a blog without being arrested (although I get criticized; but that's okay). I can drive a car, vote, and go anywhere without a man and wear whatever I want. My body and my life belong to me, and I willingly give them back to God. I am free.
I can take walks in my neighborhood—or many other places, for that matter—without feeling afraid. After a summer of terror and epiphany, I appreciate my personal liberty like I never have before. Not everyone can do this, but I can.
I am healthy. I have not contracted Covid-19 or anything else. No one in my family has died this year. Our college student got Covid just three days after returning to school, but he recovered well. In a year where hundreds of thousands of Americans are mourning a Covid-related death, I am not. That's a blessing, rather than something to complain about or make accusations. I pray for all those who are to find peace and comfort.
I can read the Bible every day, listen to Christian music, talk about my faith, and disagree with anyone about it without persecution. The caveat is that I share, persuade, and disagree with kindness and compassion because that is what God requires.
I can try anything I want to. Yesterday, I used a power saw and cut lumber for a countertop I'm making in my laundry room. Yes, I'm making my own countertop because I don't have money for a real countertop. And I'm thankful for that. I put on goggles and cut a straight line, and all my fingers are intact. It made me feel alive. My father was a real craftsman, and he would be proud of me for trying, I think.
I have money and opportunities. Yes, I often feel entitled to more. I often feel strapped. I sometimes make poor decisions with the resources I have. But I have them. What a huge blessing! This year, we were able to send our sponsored boy in Ethiopia to college. He's studying something I don't even understand, like nuclear engineering. He will do something profound and impactful for Ethiopia. The blessing is that I was a small part of his great story.
I can talk to friends and family on the phone. I can text. I can send cards. I can meet for lunch. I can hug and laugh and go for walks with them. A mask or a mandate doesn't change that. I wonder why we're hell-bent to focus on what we've lost instead of what we have? We have community if we want it, and we have isolation if don't. Belonging is a state of mind and heart, not a government mandate or lack thereof.
Colors. I don't exactly know the science of colors, but I relish them every day. My decorating, my gardening, and my clothing all reflect my love for color. I have a deep appreciation for art, design, and nature—all are a palette for beauty and balance. And every time I allow myself to enjoy color, something in my spirit sings. A sense of peace spreads over me. I wonder what causes your spirit to sing? (Find out.)
I have a church family. This has been a hard year for those of us in ministry, because there has been an expectation that we can and should somehow facilitate everyone's happiness and sense of security during this time of trauma. (We can't. That's a God-sized job.) But I am thankful today for the countless people in the church (local and global) who have sent one another encouraging emails, have refused to gossip and speculate, have refrained from embarrassing the gospel on social media, and have supported their local churches as their spiritual families. You are rare and lovely and worthy beyond measure. And so Biblical.
I can help people who need help. I can make calls, bake cookies, stop and talk. If there was ever a year to remind me how important small acts of kindness are—this was that year. I think 2021 will be a year that I really focus on giving back. The nature of a quarantined year produced and accelerated a lot of self-care. That was good and necessary, but it might also have been a bit selfish and narrow-minded. (Election partisanship comes to mind.)
I have books. I can read. I'm reading for work, for fun, for book club, for education. I'm reading all the time and challenging my mind and heart to grow, to consider and change. What a monstrous blessing! And there's Amazon, which was a stroke of genius. Books delivered to my door. I can't think of any surprise I like more.
I live in a free country. I get to vote for my leaders (or at least some of them), and I can vote out the leaders I don't want. No, our system isn't perfect. But show me another country whose global impact has been as life-giving as ours, whose system of government is designed to lessen and restrict corruption, whose citizens are nearly entirely immigrants from other nations (at one point), and whose people as a whole demonstrate generosity, adventure, responsibility, and human kindness. Show me another government that declares itself "of the people, by the people, and for the people."
We—including our government and our churches—have not all functioned at our best this year.
We have caved to fear, propaganda, and polarization. We have elevated politics over righteousness and comfort over compassion. We have been human.
But we have another year coming, and we can do better. I'm thankful for second chances, too.
Click here to read some prayers about being thankful.
Psalm 107:1-9–"Give thanks unto the Lord, for he is good; his love endures forever. Let the redeemed of the Lord say this–those he redeemed from the hand of the foe, those he gathered from the lands, from east and west, from north and south. Some wandered in desert wastelands, finding no way to a city where they could settle. They were hungry and thirsty, and their lies ebbed away. Then they cried out to the Lord in their trouble, and he delivered them from their distress. He led them by a straight way to a city where they could settle. Let them give thanks to the Lord for his unfailing love and his wonderful deeds for men, for he satisfies the thirsty and fills the hungry with good things."